Regulation of the p75 neurotrophin receptor attenuates neuroinflammation and stimulates hippocampal neurogenesis in experimental Streptococcus pneumoniae meningitis(Article Analysis)
Subject: Regulation of the p75 neurotrophin receptor attenuates neuroinflammation and stimulates hippocampal neurogenesis in experimental Streptococcus pneumoniae meningitis
Journal: Journal of Neuroinflammation
Date of publication: November 2021
Impact factor IF: 9.587/Q1
Author Affiliation: Department of Pediatric Neurology, Xinhua Hospital Affiliated to Shanghai Jiaotong University School of Medicine
Apply the ELK Biotechnology ELISA kit:
Rat IL1β (Interleukin 1 Beta) ELISA Kit 【ELK1272】
Rat TNFα (Tumor Necrosis Factor Alpha) ELISA Kit 【ELK1396】
Rat IL6 (Interleukin 6) ELISA Kit【ELK1158】
Rat NOS2/iNOS(NitricOxide Synthase 2, Inducible) ELISA Kit 【ELK1503】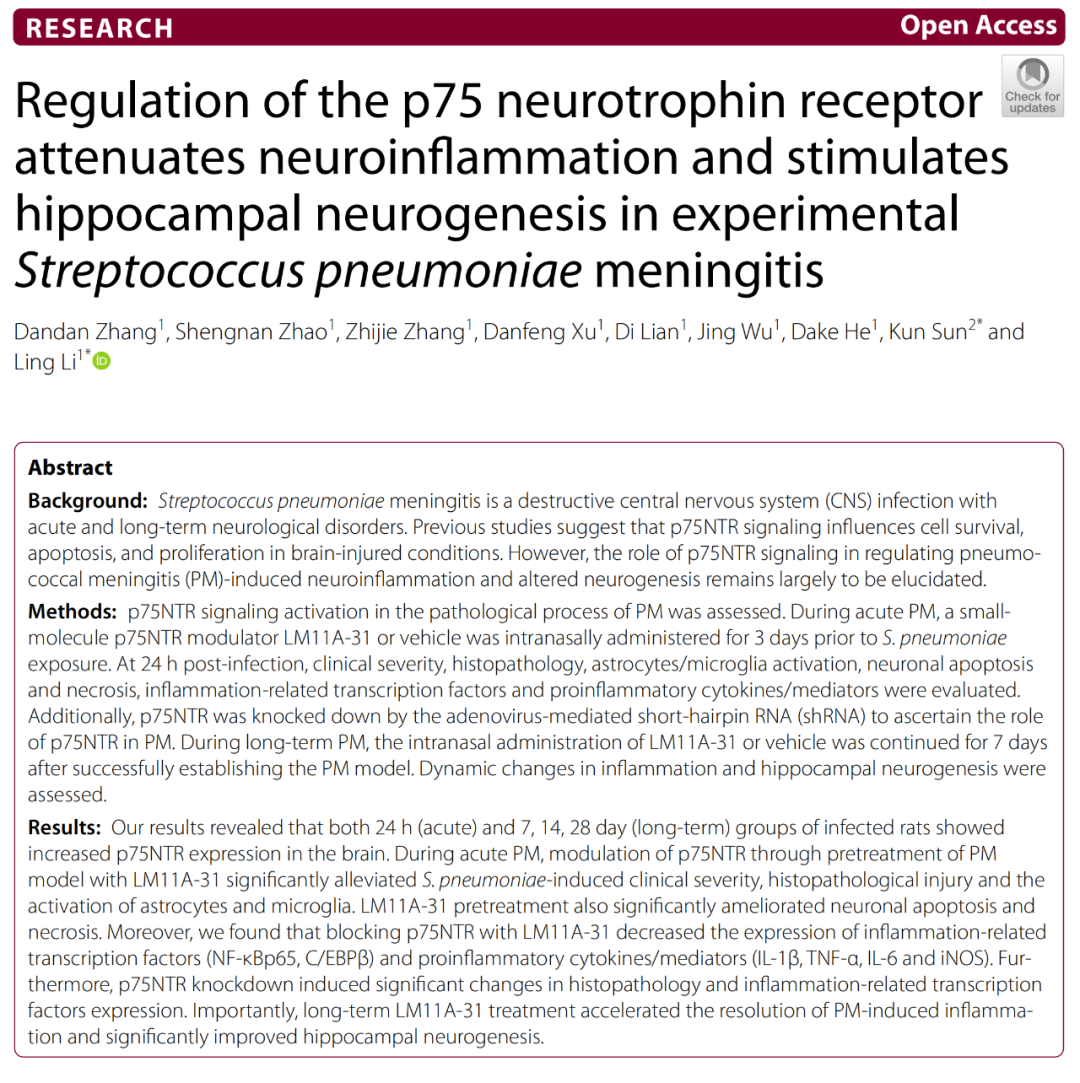 Summary: Our findings suggest that p75NTR signaling plays an important role in the pathogenesis of PM (pneumococcal meningitis). Targeting p75NTR had beneficial effects in PM rats by reducing neuroinflammation and promoting hippocampal nerve regeneration. Therefore, the p75NTR signaling pathway may be a potential therapeutic target for improving PM prognosis.
Original address: https://doi.org/10.1186/s12974-021-02294-w
Research Background
Streptococcus pneumoniae and Neisseria meningitidis are the main pathogens of meningitis in children after the neonatal period. Compared with other bacterial meningitis (BM) pathogens, pneumococcal meningitis (PM) causes long-term neurological deficits, with approximately 50% of survivors having persistent neurological sequelae throughout their lives. Although corticosteroids have been recommended as effective anti-inflammatory adjunctive therapy for PM, no beneficial effect has been observed in childhood PM. Therefore, we should strive to find alternative adjuvant treatments to reduce the burden of PM in children.
Brain-derived neurotrophic factor (BDNF) is a key member of the neurotrophic factor family that is widely expressed in the central nervous system. It plays a key role in survival, development and differentiation. Notably, the mature form of BDNF activates survival and growth signals by activating TrkB; however, its precursor (ProBDNF) binds to the tumor necrosis factor receptor-like molecule p75 neurotrophin receptor (P75NTR), which induces neuronal apoptosis by inducing neuronal apoptosis. It exhibits biological activity opposite to that of mature BDNF through death and death.
p75NTR, a member of the tumor necrosis factor (TNF) receptor superfamily, plays key roles in multiple pathways mediated by proneurotrophs, including apoptosis, death, and cell degeneration. An increasing number of studies report that the interaction of p75NTR with proneurotrophs is upregulated after various forms of CNS injury. p75NTR-null mice show reduced brain injury and dyskinesia after traumatic brain injury (TBI), attenuated Tau hyperphosphorylation in the pR5 model, improved spatial learning and enhanced long-term subconsciousness (LTP). Consistently, overexpression of p75NTR negatively regulates dendritic complexity and spine density in hippocampal neurons and reproduces learning and memory impairments in WT mice with Huntington's disease (HD).
LM11A-31, a non-peptide, a small molecule p75NTR modulator, exhibits good blood-brain barrier permeability and tolerability in models of Alzheimer's disease, Huntington's disease and TBI injury, and can alleviate pathological changes. In a mouse model of Alzheimer's disease, LM11A-31 significantly reduced neuroinflammatory responses and cholinergic degeneration, with concomitant improvements in cognitive impairment. Restoring p75NTR with LM11A-31 while inhibiting degenerative signaling, reducing inflammation, and restoring synaptic plasticity and memory in a mouse model of HD. Although these findings provide a solid rationale for the therapeutic target of p75NTR in inflammatory lesions and degenerative diseases of the central nervous system, however, the role of p75NTR in the pathological process of PM has not been elucidated.
In the present study, we investigated whether proBDNF/p75NTR interaction is involved in the pathological process of PM. Furthermore, pharmacological modulation with LM11A-31 or gene silencing of p75NTR reduced neuroinflammation in PM rat models. We also further investigated whether chronic administration of LM11A-31 after PM treatment could improve neurogenesis in the hippocampus.
Main research content
1、The expression of p75NTR increased 24 hours after PM treatment, mainly in astrocytes and neuronal cells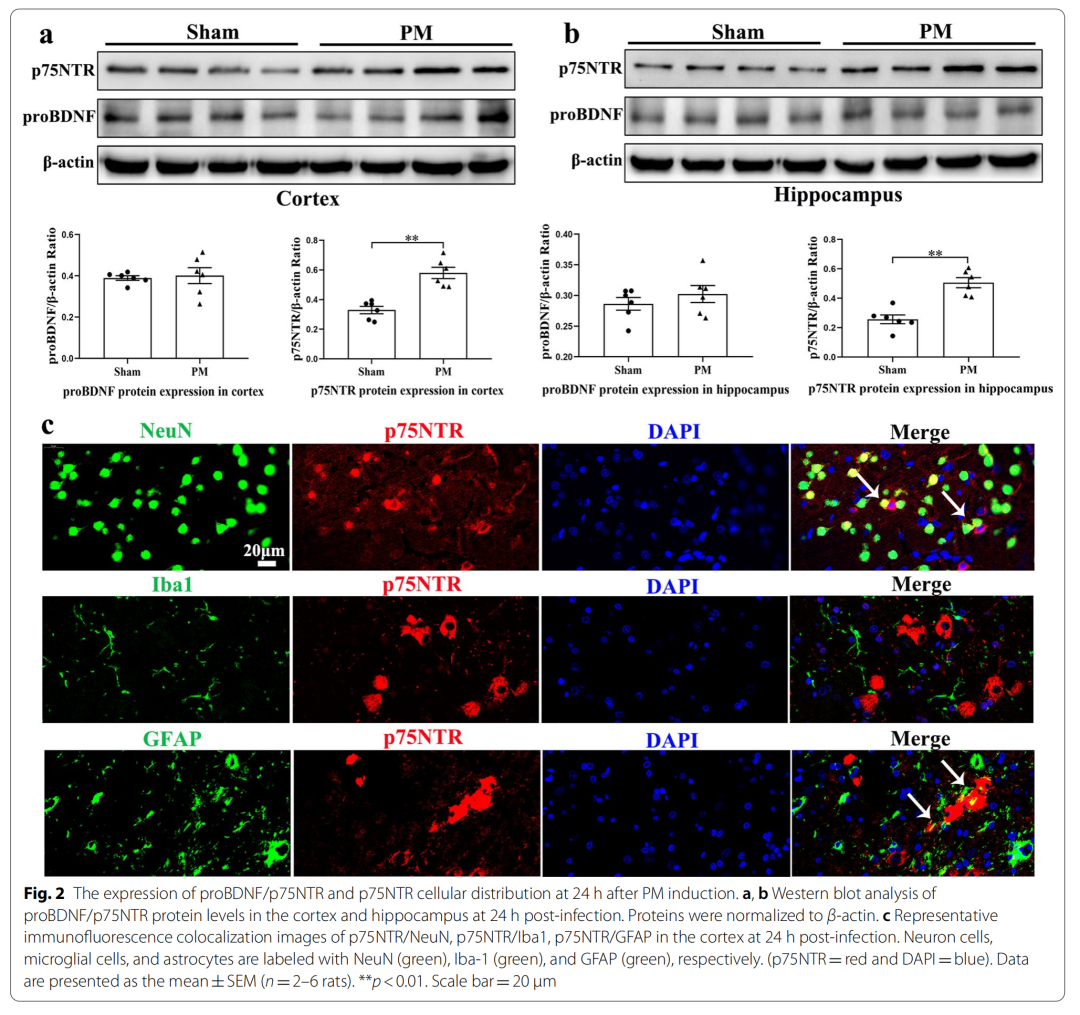 2、LM11A-31 pretreatment can alleviate the clinical and pathological changes in rats 24 hours after PM treatment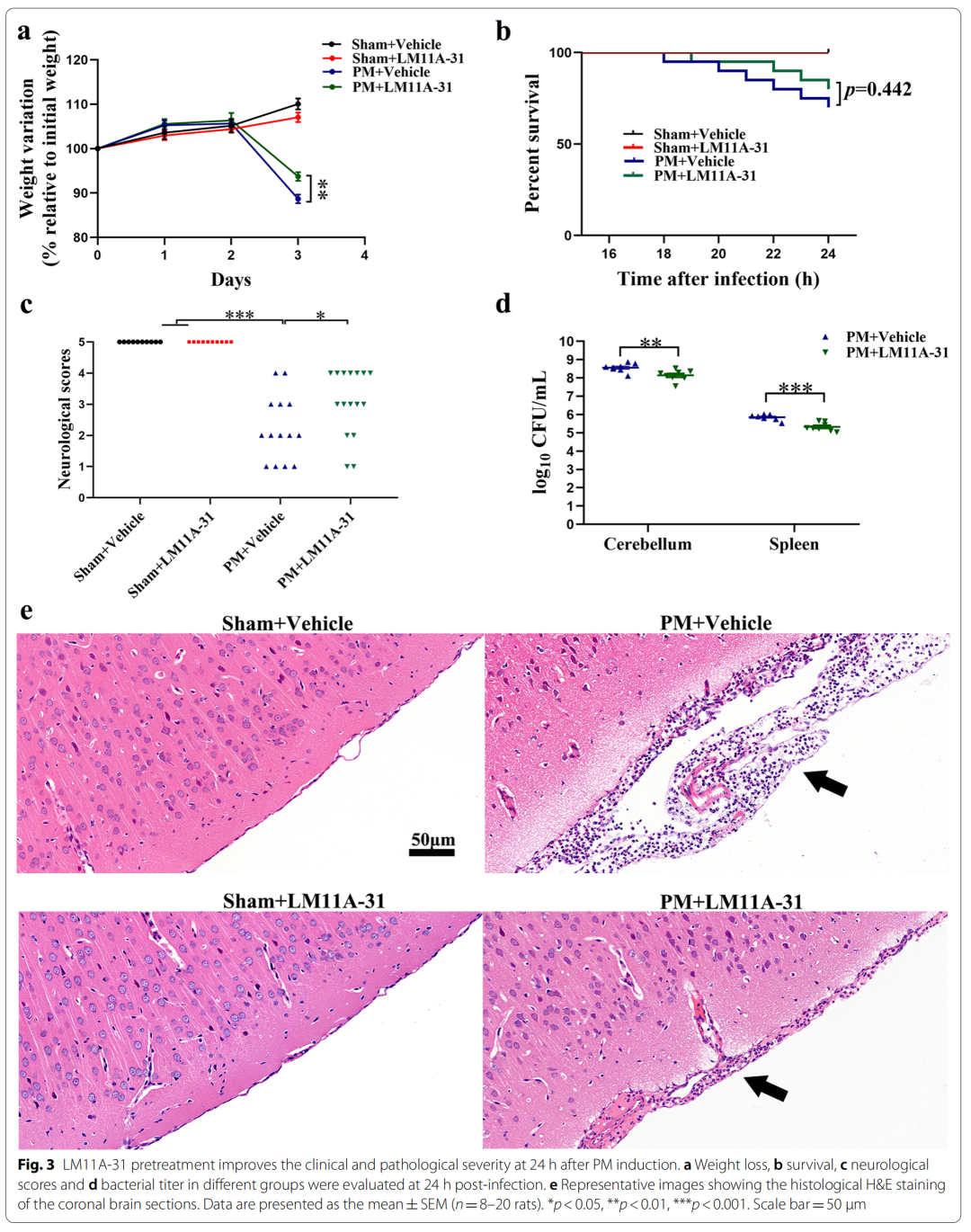 3、LM11A-31 pretreatment inhibited the activation of microglia and astrocytes in rat cerebral cortex and hippocampus 24 hours after PM treatment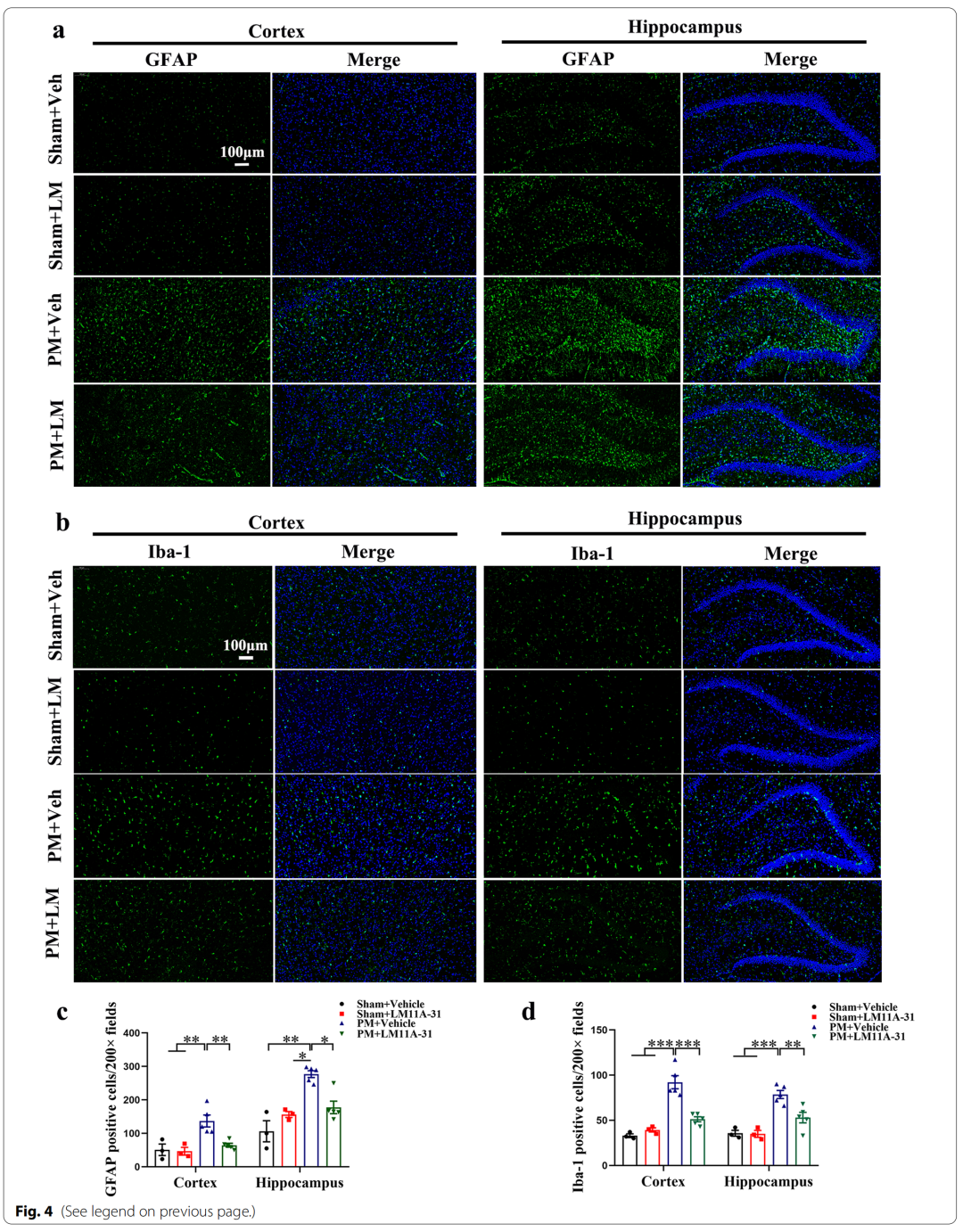 4、LM11A-31 pretreatment can inhibit the expression of p75NTR and inflammation-related transcription factors (NF-κBp65, C/EBPβ) in rat cerebral cortex and hippocampus 24 hours after PM treatment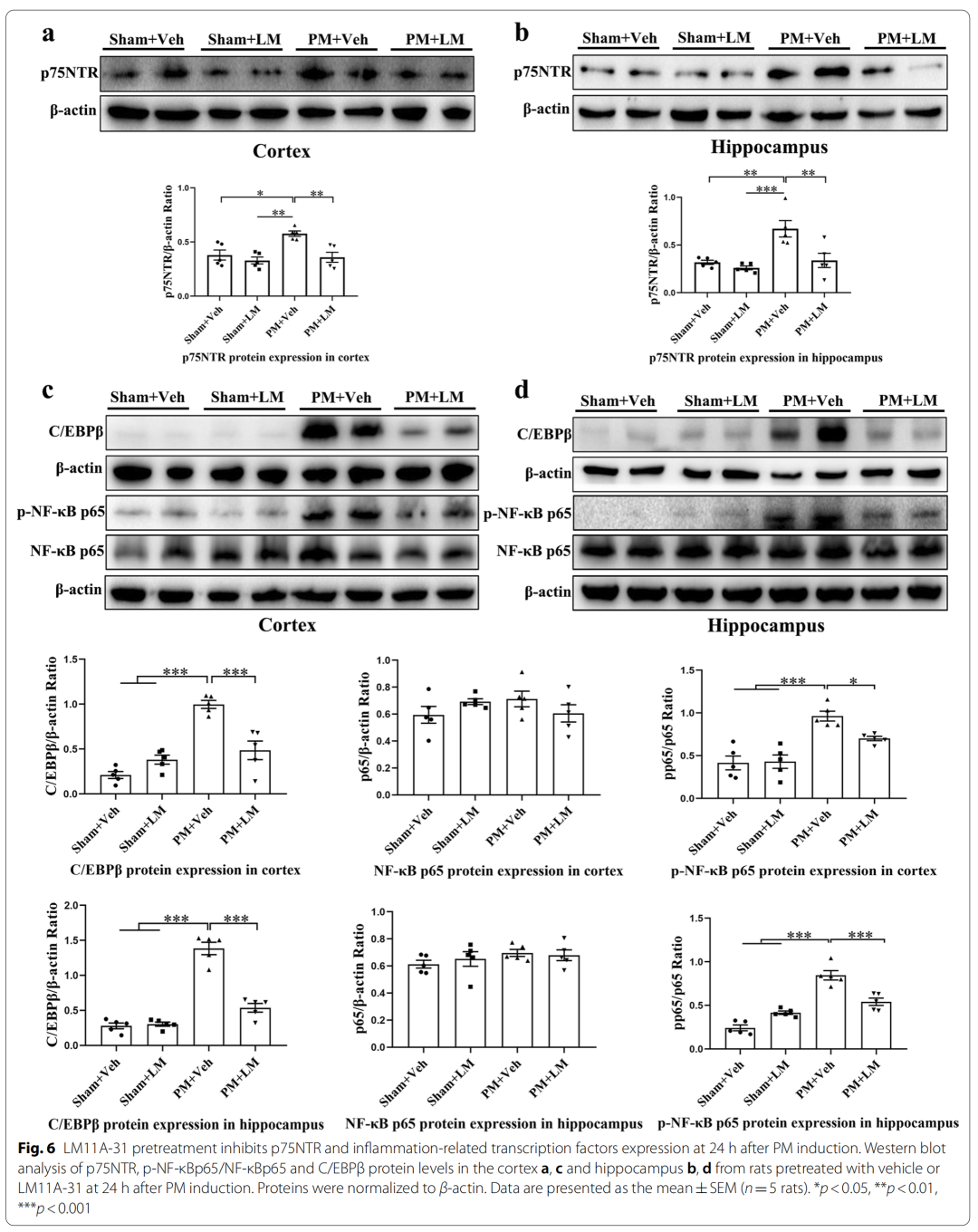 5、LM11A-31 pretreatment can reduce the up-regulation of pro-inflammatory cytokines/mediators (IL-1β, TNF-α, IL-6 and iNOS) levels in rat brain tissue and serum 24 hours after PM treatment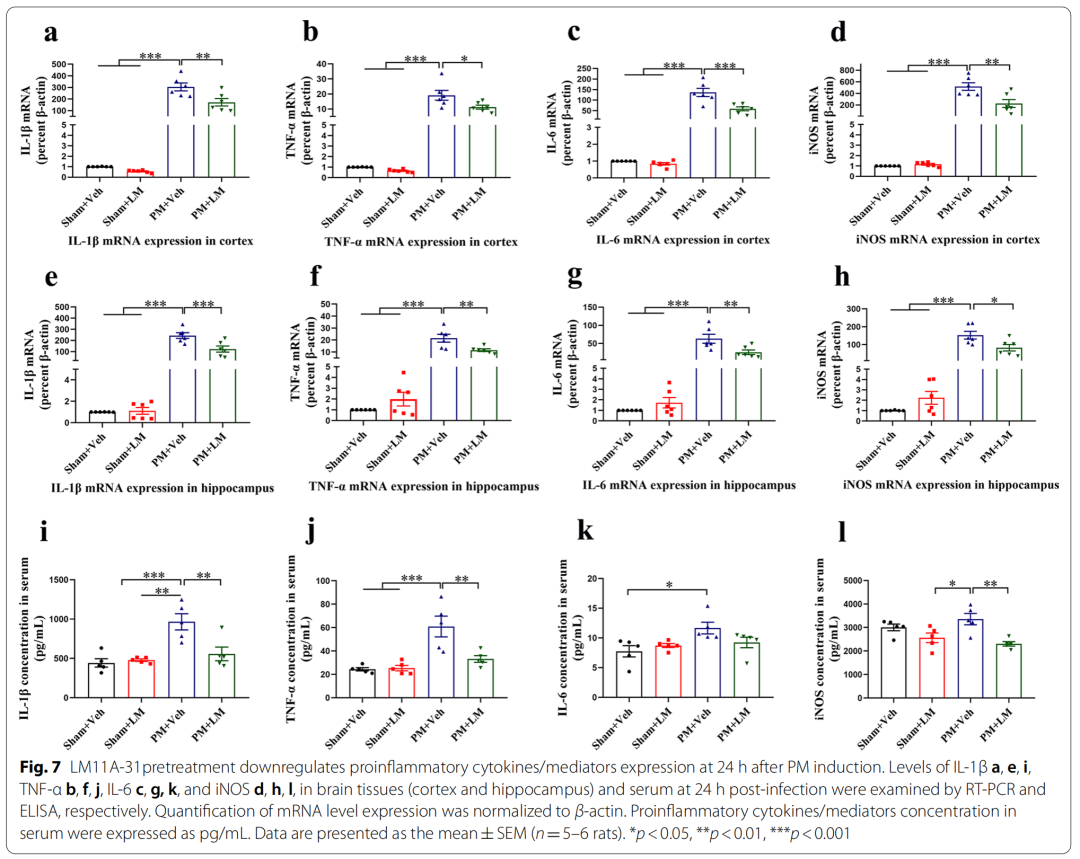 6、Knockout of p75NTR gene in cerebral cortex and hippocampus can alleviate PM-induced brain injury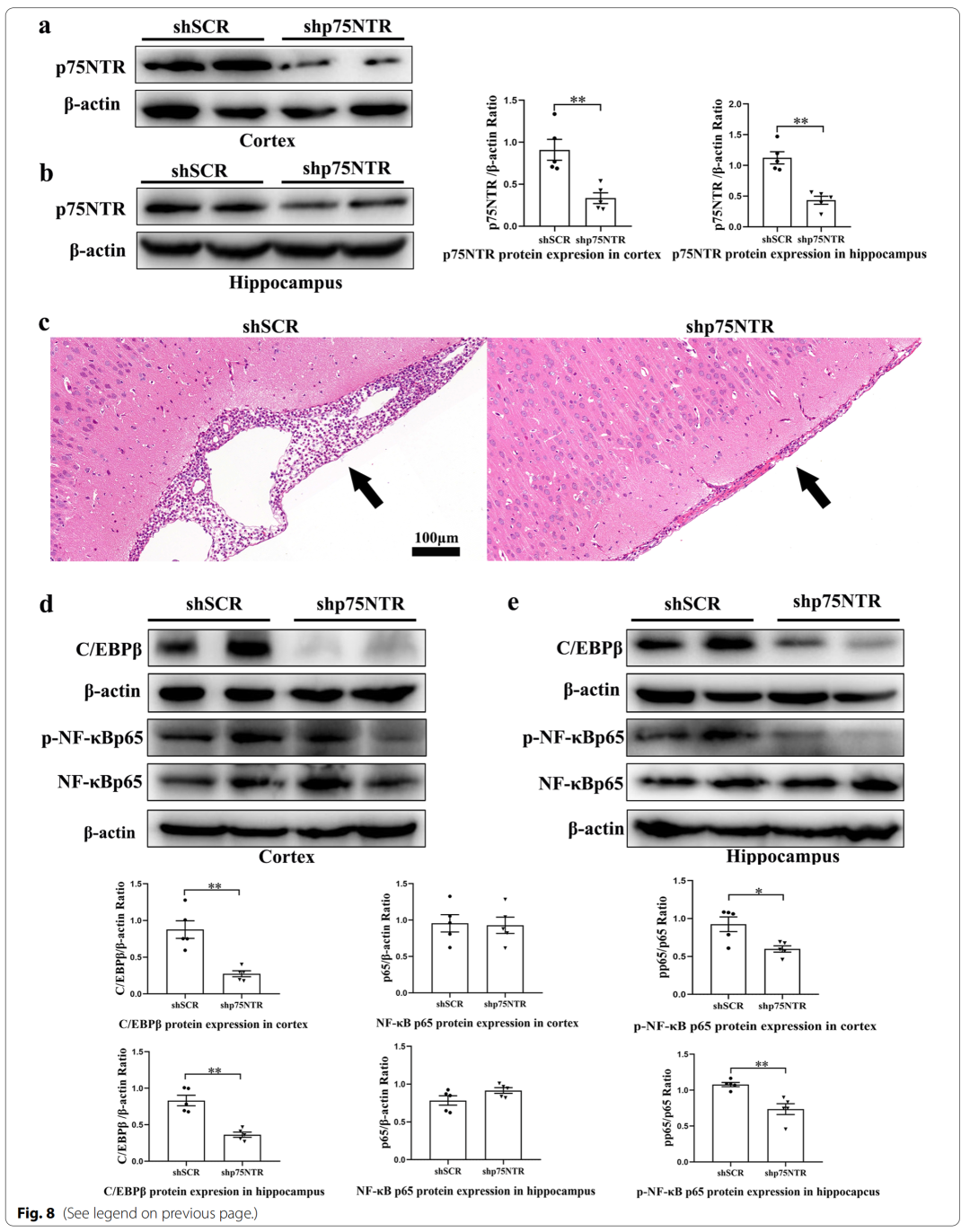 7、The ProBDNF/p75NTR pathway is activated in the hippocampus on days 7, 14 and 28 after PM treatment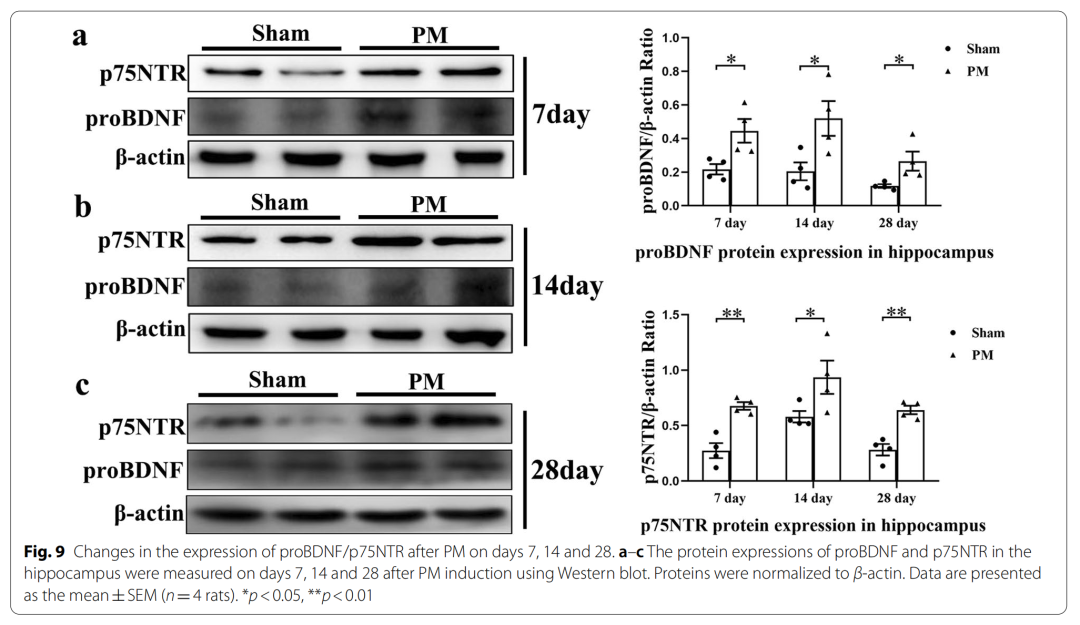 8、Dynamic changes of inflammation on days 7, 14, and 28 after long-term application of LM11A-31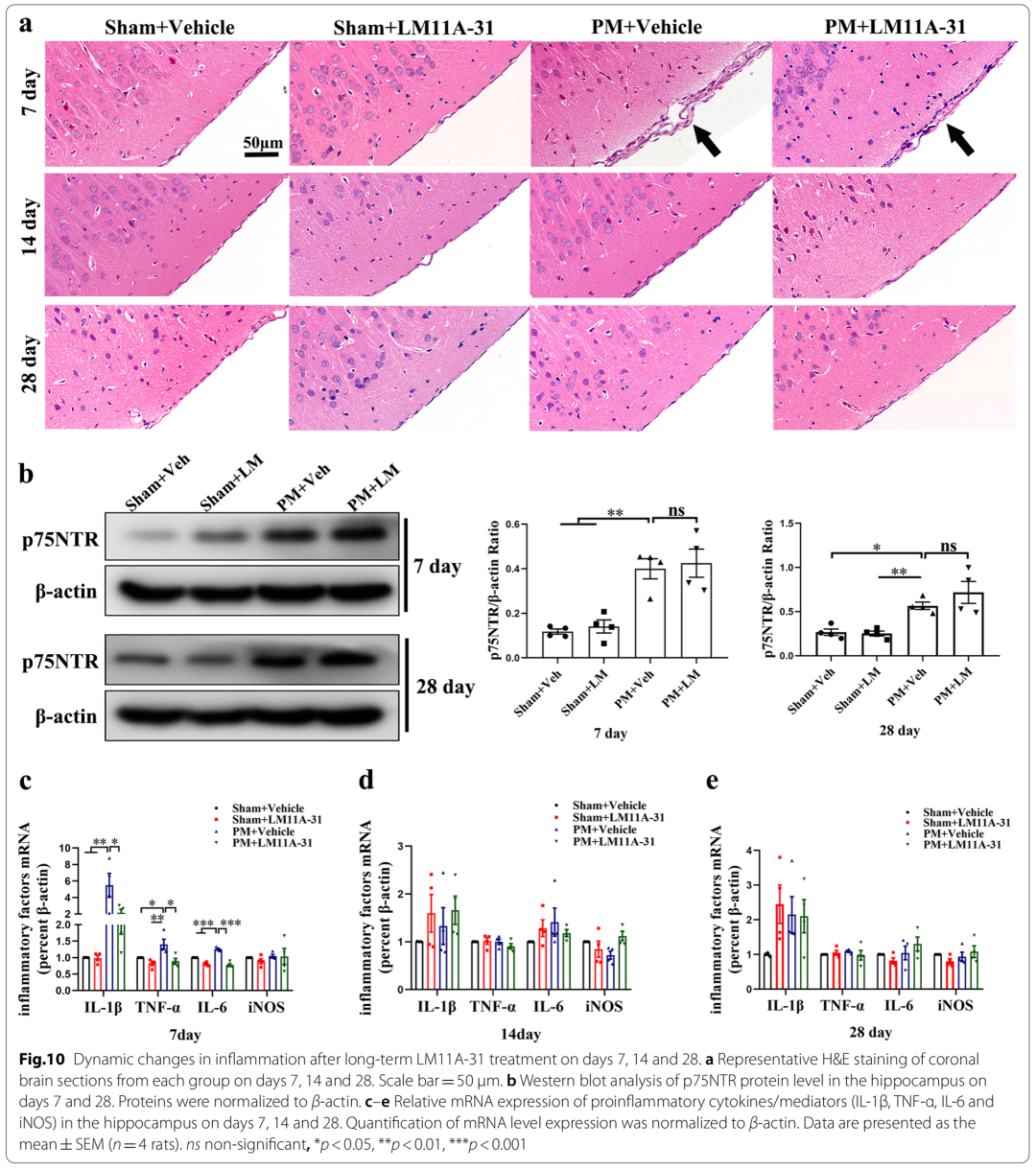 9、Long-term application of LM11A-31 promotes the proliferation of rat neural precursor cells on days 7 and 14 after PM treatment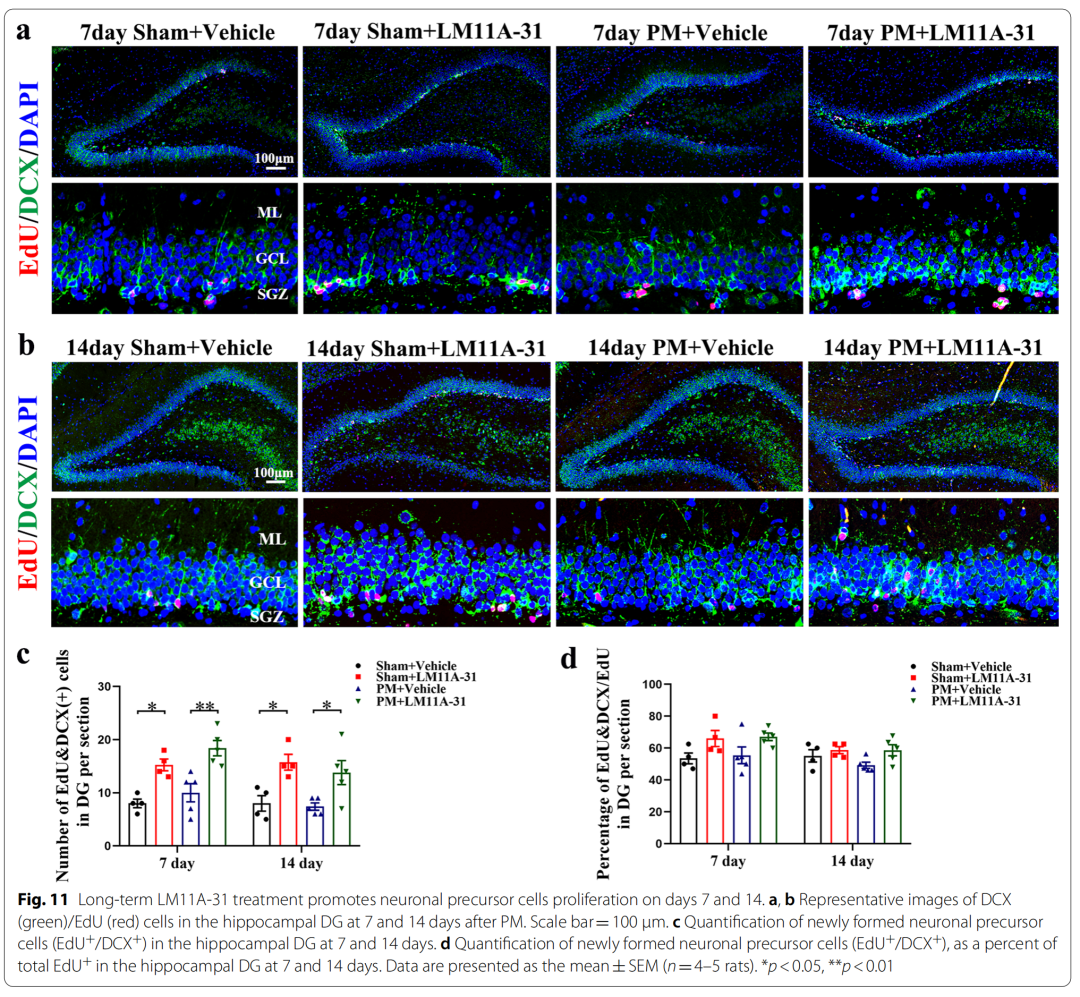 10、Long-term application of LM11A-31 promotes the formation of mature neurons in rats on day 28 after PM treatment
Article summary
Anti-inflammatory and promoting nerve regeneration are considered two effective approaches to improve PM prognosis. To our knowledge, we found for the first time that p75NTR is persistently activated during PM and, following modulation of p75NTR, confirmed its anti-inflammatory and pro-neurogenic effects.
Specifically, pretreatment of p75NTR signaling with LM11A-31 during the acute phase of PM prevents PM-induced damage, including inhibition of astrocyte and microglia activation, and reduction of inflammation-related transcription factors (NF-κB , C/EBPβ) and pro-inflammatory cytokines/mediators (IL1β, TNF-α, IL-6 and iNOS), and improved neuronal apoptosis and necrosis. Furthermore, gene inactivation further confirmed the deleterious role of p75NTR in PM-induced neuroinflammatory injury. During the long-term phase of PM, LM11A-31 treatment accelerated the resolution of inflammation and, more importantly, promoted neurogenesis in the hippocampus. Collectively, our findings provide strong evidence that modulation of p75NTR may open new avenues for therapeutic intervention in PM-induced injury.
Product recommendation (article image)